Deborah Bird Rose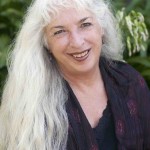 I am an Adjunct Professor in Environmental Humanities at the University of New South Wales, Australia
Wild Dog Dreaming: Love and Extinction (UVA, 2011) starts with a moment at which I felt both called and impelled to bear witness to the great Anthropogenic disasters that are signaled by the term 'extinction'. These disasters include the suffering and deaths of animals and other living beings, the degradation and loss of their homelands, the apparent indifference of humans, and thus also the degradation of humanity as a participant species in the community of life on earth. Through all this disaster runs a deeper issue of the despoliation of death, by which I mean the sundering of the life-death dynamic that has enabled the flourishing connectivities of life on earth.
Implicated as we are as humans in this great unmaking, we are also, I believe, called to bear witness: to explore the profound implications of, and to testify to, the deeply disastrous quality of our time. I have been working with the concept of double death, by which I mean exactly these processes that uncouple life and death, diminishing life's capacity to offer intergenerational gifts, and diminishing death's capacity to turn the dying back toward the living. In my book Reports from a Wild Country: Ethics for Decolonisation, I took up the concept of double death in the context of Australian Aboriginal people and their homelands (Chapter 9). The concept underpins much of my current work, and has been developed in the context of ecosystems more generally ('The Rain Keeps Falling') and in the context of animals facing extinction ('What if the Angel of History were a Dog?'). Other recent essays turn the focus toward ways of ethically witnessing to the deliberate mass-deaths of nonhuman others ('Judas Work: Four Modes of Sorrow').
My current work continues to explore the despoliation of both life and death through the peculiar and often disastrous encounters between human actions and animal lives that take place in the zone at the edge of extinction. For more information…

Publications concerning extinction and double death
Books
2011 Wild Dog Dreaming: Love and Extinction, University of Virginia Press, Charlottesville. (Published in the series 'Under the Sign of Nature: Explorations in Ecocriticism')
2004 Reports from a Wild Country: Ethics for Decolonisation, University of New South Wales Press, Sydney. Shortlisted for the NSW Premier's Award and the Gleebooks Prize for Critical Writing.

Articles and Chapters
2013, 'In the Shadow of All this Death', in Animal Death, Jay Johnston & Fiona Probyn-Rapsey, ed, Sydney University Press, Sydney, pp. 1-20.
2013 'Dingo Kinship', Wildlife Australia, (Winter), 33-35.
2012 'Why I don't speak of wilderness', EarthSong, 2, 4 (Spring), 9-11,
2012 'Ruined Faces', in Facing Nature: Levinas and Environmental Thought, William Edelglass, James Hatley, and Christian Diehm (eds), Duquesne University Press, Pittsburgh, pp. 95-108.
2012 'Cosmopolitics: The Kiss of Life', New Formations, Special Issue: The Animals Turn, vol 76, 101-113.
2012 'Multispecies Knots of Ethical Time', Environmental Philosophy, IX, 1, 127-140.
2012 'Storied-places in a multispecies city', co-authored with Thom van Dooren, Humanimalia, 3, 2 (Spring): 1-27.
2011 'Flying Foxes: Kin, Keystone, Kontaminant' in Australian Humanities Review, special issue: 'Unloved Others: Death of the disregarded in the time of extinctions', Deborah Rose & Thom Van Dooren, eds.
2008  'Journeys: Distance, Proximity and Death' in Anna Haebich and Baden Offerd (Eds.) Landscapes of Exile, Peter Lang, London, pp. 149-156.
2008 'Judas Work: Four Modes of Sorrow', Environmental Philosophy, 5, 2, 51-66.
2008 'On history, trees and ethical proximity', Postcolonial Studies, Vol. 11, No. 2, pp. 157-167.
2008 'Love in the Time of Extinctions', The Australian Journal of Anthropology, 19:1, pp 81-83.
2007 'Recursive Epistemologies and an Ethics of Attention', in Extraordinary Anthropology: Transformations in the Field. J-G Goulet and B Miller, eds, University of Nebraska Press, Lincoln, pp. 88-102.
2006 '"Moral friends" in the zone of disaster', Tamkang Review, 37, 1.  pp. 77-97.
2006 'What if the Angel of History were a Dog?' Cultural Studies Review, 12, 1, 67-78.
2005  'The Rain Keeps Falling', Cultural Studies Review, 11, 1, 122-127.
2005 'Dingo Prayers', Island, 103, pp. 6-10.

Encyclopaedia entries
2010  'Extinction', co-authored with Thom van Dooren, Encyclopedia of Geography, Barney Warf, ed, SAGE Publications, London.

Related Writings, books
2009 Dingo Makes Us Human; Life and land in an Australian Aboriginal Culture. New in Paperback,  Cambridge University Press (third printing, digital edition; winner of the 1994 Stanner Award)

Related Writings, articles and chapters
addressing ecological disaster:
2010 'So the future can come forth from the ground' in Moral Ground: Ethical Action for a Planet in Peril, Kathleen Dean Moore & Michael Nelson (eds), pp. 154-157, Trinity University Press, San Antonio.
2010 Cameron Muir, Deborah Rose and Philip Sullivan 'From the other side of the knowledge frontier: Indigenous knowledge, social–ecological relationships and new perspectives, in The Rangeland Journal, 32, 3, 259-265
2007 'Justice and Longing', in Fresh Water: New Perspectives on water in Australia, Emily Potter, Alison Mackinnon, Stephen McKenzie and Jennifer McKay, eds, pp. 8-20, Melbourne University Press, Melbourne.
2004 'The Ecological Humanities in Action: An Invitation', Australian Humanities Review, Issue 31-32, April.

addressing the commingling of death, desire, violence and redemption:
2006   'New World Poetics of Place: along the Oregon Trail and in the National Museum of Australia',  in Rethinking 'Settler' Colonialism: History and Memory in Australia, Canada, Aotearoa New Zealand and South Africa, Annie Coombes, ed, pp. 228-244, Manchester University Press, Manchester.
2005  'The Redemptive Frontier: A Long Road to Nowhere', in Dislocating the Frontier: Essaying the Mystique of the Outback, edited with Richard Davis, pp. 49-65, ANU E-Press, Canberra.
2001 'Aboriginal Life and Death in Australian Nationhood', Aboriginal History, vol. 25, 148-162.